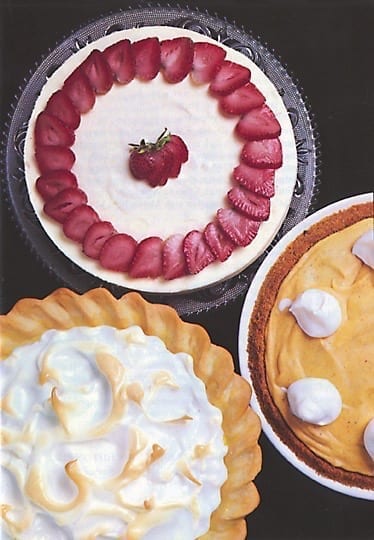 1 envelope unflavored gelatin
1/2 c. cold water
1 7 1/2-oz. jar Marshmallow Fluff
1 16-oz. can pumpkin
1/2 tsp. ground ginger
1/2 tsp. ground cinnamon
1/4 tsp. grated nutmeg
1/2 tsp. salt
1/2 c. heavy or whipping cream, whipped
1 prebaked Graham Cracker Crust
In medium saucepan combine gelatin and cold water; let stand 1 minute. Cook over low heat, stirring constantly, until gelatin is completely dissolved. Blend in Marshmallow Fluff, pumpkin, spices and salt. Chill until mixture mounds when dropped from a spoon. Fold in whipped cream. Turn into pie crust and chill until set, about 2 hours. Makes 6 to 8 servings.
Variations: Strawberry, Rasberry or Banana Chiffon Pie:
In place of pumpkin and spices, substitute 2 cups mashed fruit, 1 T. lemon juiceand 1 tsp. grated lemon peel.