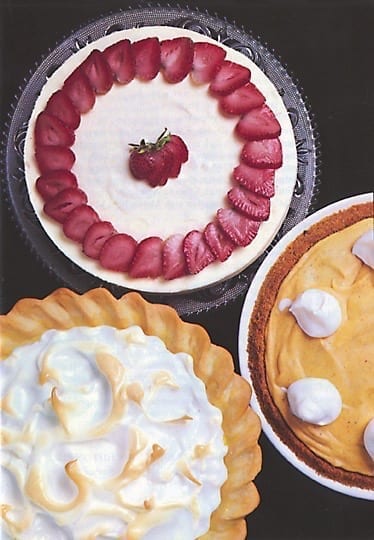 1 1/2 c. sugar
6 T. cornstarch
1/4 tsp. salt
1/2 c. freshly squeezed lemon juice
1/2 c. cold water
3 eggs yolks, slightly beaten
1 1/2 c. boiling water
1 T. butter or margarine
9-inch baked pie shell
Fluff Meringue (below)
In medium saucepan combine sugar, cornstarch and salt. Add lemon juice, cold water and egg yolks; stir in boiling water. Cook over medium heat, stirring constantly, until mixture begins to boil. Cook 2 to 3 minutes more. Stir in butter until melted. Remove from heat. Heat oven to 350F. Prepare Fluff Meringue. Pour filling into pie shell. Spread meringue over hot filling; seal well to crust. Bake 10 to 12 minutes or until meringue is golden. Cool completely on wire rack. Makes 8 servings.
Fluff Meringue
In medium bowl beat 3 egg whites, at room temperature, until soft peaks form. Beat in 1/2 c. Marshmallow Fluff, a little at a time, until whites stand in stiff glossy peaks.