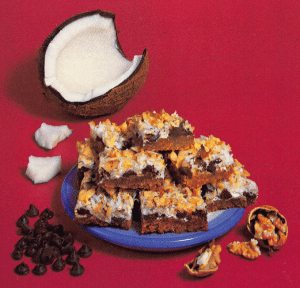 1/3 c. butter or margarine
1 1/2 c. graham cracker crumbs
1 Jar (7 1/2oz) Marshmallow Fluff
1 can (5 oz) Evaporated Milk
1 6-oz. package semisweet-chocolate pieces
1 3 1/2-oz. can flaked coconut
1 c. chopped walnuts
Heat oven to 350 F. In 13″ x 9″ baking pan, melt butter or margarine. Sprinkle crumbs over butter. In small saucepan, over low heat, combine Fluff and milk, stirring until smooth. Pour over crumbs. Top evenly with remaining ingredients; press down gently. Bake 25 to 30 minutes or until lightly browned. Cool completely; cut into 2-inch squares. Makes 2 dozen.