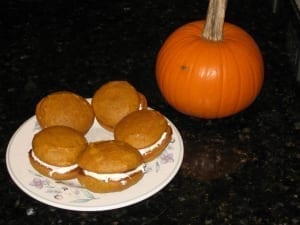 2 eggs
2 cups sugar
1 16 oz can pumpkin
1/2 cup oil
2 1/2 cups unsifted all-purpose flour
1 tsp cinnamon
1 1/2 tsp. baking soda
1/2 tsp. salt
3/4 tsp allspice
Filling (recipe follows)
Heat oven to 350 F. Grease two large cookie sheets and set aside. In a large bowl with mixer at low speed beat eggs, sugar & pumpkin until mixed. Mix in oil. Gradually beat in remaining dry ingredients. Drop by rounded tablespoons onto cookie sheets. Bake about 10-12 minutes or until top springs back when lightly touched with finger. Remove to wire racks to cool. When cool, use filling and two cakes to make sandwiches. Makes about 22.
Cream Cheese Filling
4 oz cream cheese
1/4 cup butter or margarine (1/2 stick)
2 cups confectioners' sugar
1 Jar (7.5oz) Marshmallow Fluff
Bring butter to room temperature.  In a medium bowl with mixer at low speed, beat butter and cream cheese until mixed.  Beat in Marshmallow Fluff.  Add confections sugar until mixed.